Rated G
[Reviews - 0]
Printer Friendly: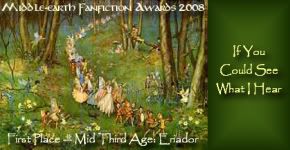 There are times and places where two worlds meet, where a traveller may wander into this Hidden Place. Between places are entrances into this Magical Realm: between Earth and Sea, between Day and Night, between One Place and The Next….Standing within a doorway, one is neither in one place or the next, neither outside nor indoors. It allows us a passageway into the inbetween world of Faerie.
(From "A Journey into the Realms of Faerie")
Beta by Dreamflower!
---
Story Notes: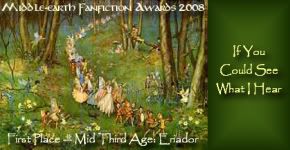 ---
Table of Contents
1. Chapter 1 "Tulip" by Cathleen [Reviews - 0] (3402 words)
2. Chapter 2 "A Wee Adventure" by Cathleen [Reviews - 0] (1483 words)
3. Chapter 3 "A Faerie Song" by Cathleen [Reviews - 0] (2010 words)
4. Chapter 4 "Rhoswen" by Cathleen [Reviews - 0] (2304 words)
5. Chapter 5 "Alfie" by Cathleen [Reviews - 0] (2893 words)
6. Chapter 6 "Along a Path of Light" by Cathleen [Reviews - 0] (4369 words)
7. Chapter 7 "Walking Between Worlds" by Cathleen [Reviews - 0] (3146 words)
8. Chapter 8 "A Seeker's Journey" by Cathleen [Reviews - 0] (3378 words)
9. Chapter 9 "Silver Window, Flowing Fate" by Cathleen [Reviews - 0] (3717 words)
10. Chapter 10 "Song of the Morning Birds" by Cathleen [Reviews - 0] (3661 words)
11. Chapter 11 Epilogue "Come Yesterday" by Cathleen [Reviews - 0] (3350 words)
---
Story Information
Categories: The Lord of the Rings
Characters: Hobbit: Baggins: Bilbo, Hobbit: Baggins: Frodo, Hobbit: Brandybuck: Esmeralda (Took), Hobbit: Brandybuck: Merry (Master), Hobbit: Brandybuck: Saradoc, Hobbit: Smallburrow: Robin, Hobbit: Took: Eglantine (Banks), Hobbit: Took: Paladin II (Thain), Hobbit: Took: Pearl, Hobbit: Took: Pervinca, Hobbit: Took: Pimpernel, Hobbit: Took: Pippin (Thain), Original Female Character, Original Male Character
Genres: Action/Adventure, Childhood, Family, Mystery
Places: The Shire: Whitwell
Times: 3-Third Age: middle
Warnings: None
Challenges: None
Series: None
Chapters: 11 &nbsp&nbsp | &nbsp&nbsp Word count: 33713 &nbsp&nbsp | &nbsp&nbsp Read Count: 12893
Completed: Yes &nbsp&nbsp | &nbsp&nbsp Updated: 04/11/10 &nbsp&nbsp | &nbsp&nbsp Published: 04/11/10

---
---